home gallery about the artist music contact information www.paulpetersonart.com
Paul Teaching Art At Freeman Academy____________________________________________________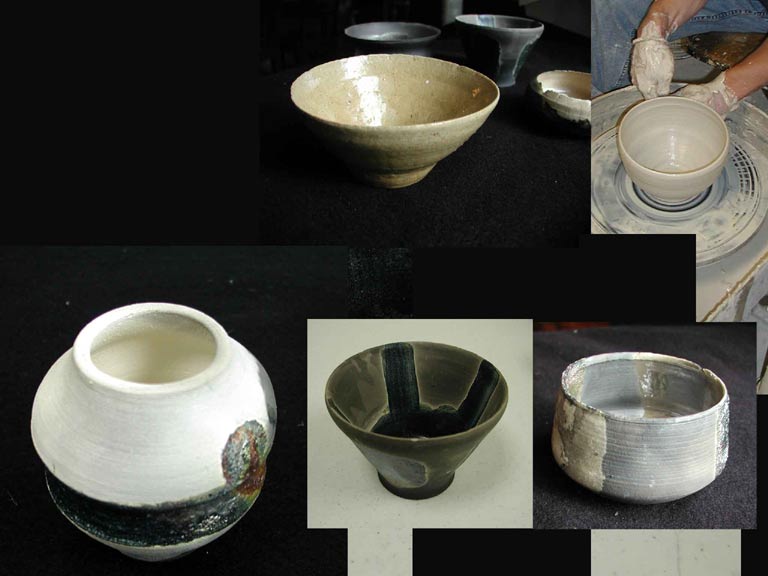 Raku Pottery
One of the most exciting projects I took on with my ceramics students was Raku pottery. Raku pottery originated in Japan over 3000 years ago and was originally used as part of the tea ceremony. The process requires glazed pots to be removed from the kiln when the glaze becomes red hot and molten. They are then put in an airtight container with combustible materials which burst into flames upon contact with the pot, consuming all the oxygen in the container. The reduction causes intense metallic colors to appear in the glazes with upredicatable but pleasing results. "Happiness By Chance" is one definition of Raku.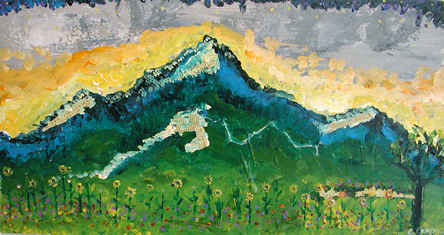 Art I and II
Many of my Art I and Art II students won awards for their work. This painting by Lindsey recieved awards at the University of South Dakota and at the Regional High School art show in Sioux Falls.
Music
I was very fortunate to have many excellent musicians play with. Here is an Mp3 of Scarlet Purple Robe. This song was recorded live at the Freeman Academy Spring Concert, May 2004. I'm playing guitar and singing, Tim Evenson is on Stand-up Bass, Bryce Schmidt on Mandolin, Michael Graber on Violin and Daniel Graber is singing backup. We never got around to officially naming our group. "Church Road Bandits" was as close as we got to a name. The arrangement and melody for "Purple Robe" is ours. I found the lyrics somewhere on the internet. The Stanley Brothers recorded the song but I don't know who wrote it. We had a lot of fun playing and considering most of practice time was between classes and when Michael could get out of Geography we sound pretty darn good.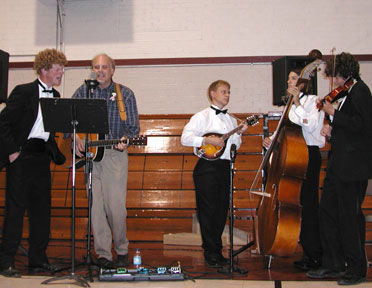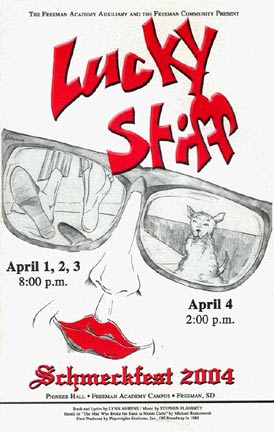 Theatre
The Schmeckfest musical for 2004 was "Lucky Stiff". I designed and drew the poster art including the lettering and also worked on the set design with science teacher Ted Spangler.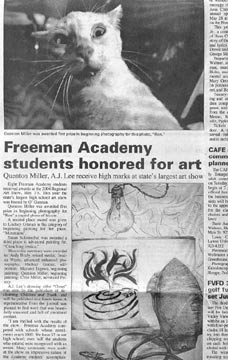 Art Shows
I had good reason to be proud of my students. They recieved three Honorable Mentions at the "Area Art Show" in Vermillion at USD and five Honorable mentions, one first place, one second place and one third place award at the "Regional High School Art Show".