Press and Dakotan-Thursday, August 26, 2004
<![if !supportLineBreakNewLine]>
<![endif]>
---
Vermillion native, Paul Peterson, who lives in Sturgis, works on an original painting of Spirit Mound Wednesday afternoon.
-- Photo by Kellie Smedsrud
---
Spirits Soar In Vermillion Spirit Mound Remains Sacred Site Two Centuries After L&C Visit
BY RANDY DOCKENDORF
randy.dockendorf@yankton.net
VERMILLION -- Two centuries ago, American Indians refused to climb Spirit Mound, believing it was inhabited by "little devils" 18 inches tall with spears or bows and arrows ready to attack those who dared scale the sacred hill.
Many Indians still refuse to hike up the mound north of Vermillion. On Wednesday, during Vermillion's observance of the Lewis and Clark bicentennial, it appeared they still had reason to feel both respect and fear.
Lewis and Clark re-enactors hiking the mound -- symbolizing the explorers' Aug. 25, 1804, ascent of the hill -- were greeted by a sudden, unexplained windstorm. Clouds gathered and swept over the prairie.
The sight brought a sense of awe to Dave Huebner, a re-enactor from Bushnell.
"Right after they started coming down, a black cloud came over us and a straight line wind passed over the mound. It was a strange little wind," he said. "The whirlwind sucked the papers into a pile. Then we had thunder and lightning in the northwest, and there was rain."
Huebner said he encountered similar strange conditions when he hiked up Spirit Mound on a re-enactment two years ago.
"We had one character who portrayed a Ponca woman, and she was getting bitten by buffalo gnats," he said. "Then the gnats left, and the brown wrens came circling all around us."
While Lewis and Clark are known for their search for the "Little People," Huebner said a reference to the legend was mentioned in a historical paper about a man captured by the Brule Sioux in 1802.
"(The captured man) told of a legend that the Indian people killed too many animals and left the meat. Then Wakontonka, the Great Spirit, took away the game. The people prayed for a return of animals because the children were starving," Huebner said.
"The Great Spirit returned the animals but put in place the Ślittle people' to watch the Indians and make sure they didn't take more than they needed."
Many Indians still offer prayers and gifts at Spirit Mound, Huebner said. They also take precautions against evil on the mound, he said.
"Today, I know a Lakota man who smudges himself when he goes on the mound," he said.
American Indians still pass on the story of Spirit Mound and other sacred sites, said Jerome Kills Small, a University of South Dakota faculty member.
"I am pleased to be here to honor the earth. I am mainly a storyteller. I'm a writer who doesn't write. I am an oral traditionalist," he told an audience. "The Lakota storytellers don't analyze. They leave that up to each one for their own conclusion and to apply it to their lives."
At the base of Spirit Mound, Vermillion native Paul Peterson was re-creating his own vision of Spirit Mound on canvas. Peterson said he now lives in Sturgis but still comes back to Spirit Mound whenever he visits the area.
"I grew up north of here, along Frog Creek Road," he said. "It's always interesting, when you are younger, what you can do with your imagination when you look at odd geographical features that just stick out of nowhere. It's great."
Peterson said he enjoys painting outdoors. He said he finds something different in Spirit Mound each time.
"It has a different look and feels. I am a different person each time, and there is the change of weather and seasons each time I paint. I am always struck that the mound has a very distinct profile," he said.
"Then there is the historical point to the story of Spirit Mound. This is part of the Native American aspect of the Lewis and Clark Expedition."
Peterson said he learned of the legend of the "little people" as a child.
"It brings such power images, and it's such a source of inspiration," he said. "It fuels the imagination. It affects the way you understand and study Lewis and Clark."
Spirit Mound affects visitors from all across the nation, Peterson said.
"Yesterday, I was here and there was a party who was coming through from Alaska. And we had a retired college professor from New Mexico. We sat and watched the sunset," he said.
"The (Lewis and Clark bicentennial) anniversary makes it possible for people to travel all over to be here. It provides an interruption from the hustle and bustle of everyday life. It's great to see how many other people find this such a special place."
As he spoke, Vermillion resident Mary Anne Cracauer descended from her first trip up Spirit Mound.
"My husband and I came out here after the Vermillion Plain Talk printed a picture of all the beautiful flowers out here, but this is the first time I have gone all the way up to the top," she said.
"It's just marvelous to think that are you are standing in the same spot that Lewis and Clark stood 200 years ago. It's such a beautiful place. Back then, it was covered with buffalo. But it's still a wonderful, spiritual place."
The observance continues this weekend at Spirit Mound and W.H. Over Museum on the USD campus.
<![if !supportEmptyParas]> <![endif]>
---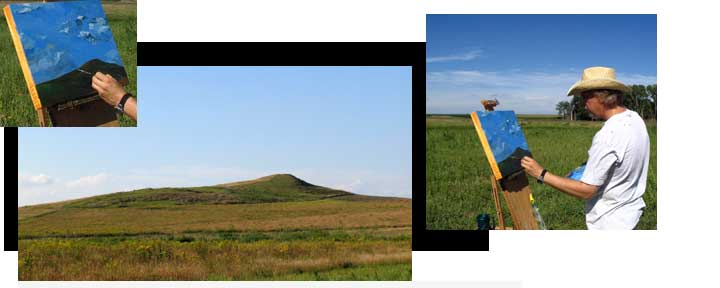 It turned out to be a really great day at Spirit Mound. We had some strange weather but even the wind and threat of showers served to accent the drama of the celebration and the mysteries surrounding Spirit Mound.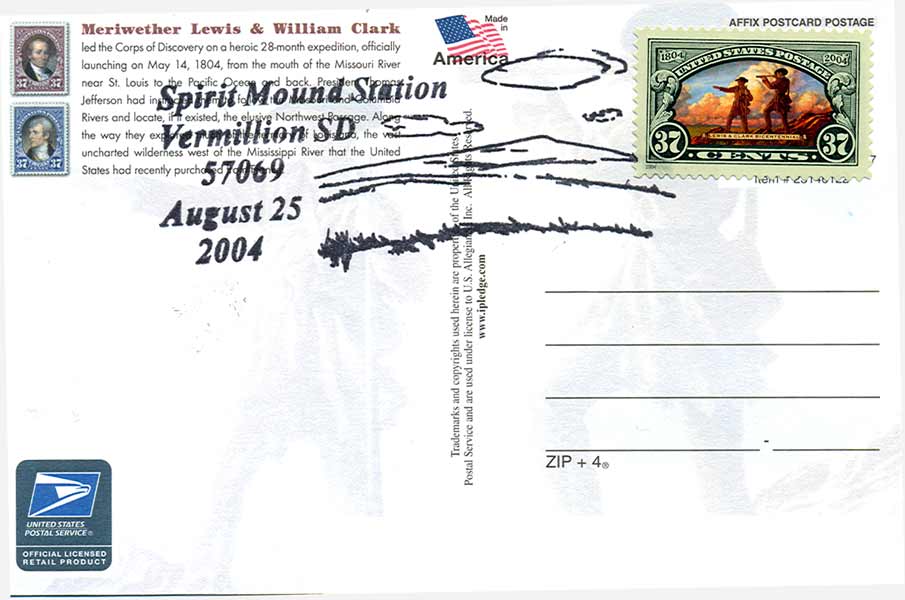 A postcard with the cancellation mark I designed.