gallery about the artist photography music contact information www.paulpetersonart.com

Paul's interview with Karl Gehrke

Paul's interview with Victoria Wicks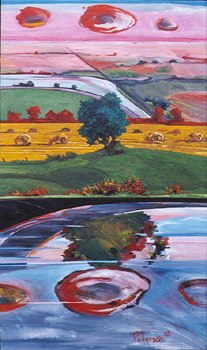 Growing up on a farm in Southeastern SD has given me an intimate understanding of rural life and a unique perspective as an artist. Viewers of my work will not only perceive a sense of place but will also experience the complicated and sometimes contradictory feelings many rural residents experience over their lifetimes. The paintings are colorful, emotionally autobiographical and reflect my feeling of connection to the land.

Update me PLEASE!!!!!!!!!!!!!!!!!

I am an artist living in Sturgis, SD. Currently I am working on a series of paintings for a show in Brookings, SD at the South Dakota Art Museum. The show will feature abstract landscapes inspired by the rural areas of the state. I have taught grade school and high school art and served as adjunct faculty at Black Hills State where I earned my teaching degree. I have also studied art at USD. Spending time in the classroom inspiring and being inspired by my students is an important part of who I am as an artist.
On this site you will find many examples of my work and some of the activities I've been involved in over the last couple of years. Every year the Master Gardeners of Rapid City sponsor a garden walk and they involve area artists and musicians. I painted at one of the featured gardens in Rapid City during the 2003 garden walk and at a featured garden in Sturgis for the 2004 garden walk.
The term for painting outside on site is pleine aire. The impressionists were particularly strong proponents of this method of painting. I began painting outside after being asked to participate in pleine aire show at the Dahl Fine Art Center with four other artists from the Black Hills Area. I hope you will have a look at the pleine aire and garden walk links.
The 2003-2004 school year found me teaching at Freeman Academy in Freeman, SD. Freeman Academy is a private school based in the Mennonite tradition and focused on college preparation. I was fortunate to work with a very caring and sensitive staff who were understanding of the struggles and needs of a first year teacher. My students were gifted and highly motivated and a whole lot of fun to instruct and hang out with. This was a very challenging and exiting year and I can't imagine having a better first year anywhere.
2006-2007 South Dakota Artist Grant Recipient
12-12-05 "Maybe In The Morning" at The South Dakota Governor's Second Biennial Art Exhibition, Endless Possibilities, December 2005-February 2006.
"Volin Elevator" at The Members Art Show, Sletwold Hall in the W.H. Over Museum, Vermillion SD, December 20, 2005-January 31, 2006
4-20-05
The juried art show "Red" will be up at the Dahl Art Center in Rapid City, SD from May 20-July 4. My painting "Red Tree Reflecting On A Stock Pond" was accepted and will appear in the show.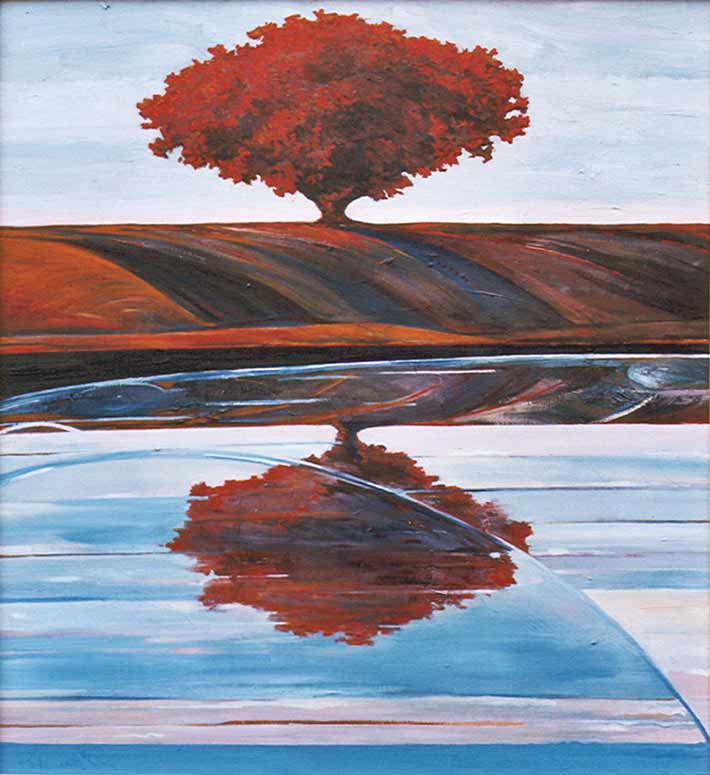 Red Tree Reflecting On A Stock Pond
4-14-05
The opening for the show in Brookings was a success. Four paintings have sold to date and the gallery talk was very well recieved. After the talk I was asked more that once if I had ever considered stand-up. I think thats a good thing. The show will be up until July 3rd at the South Dakota State Art Museum (The painting next to my name on the Museum site isn't mine but the dates for the show are correct.) This show was really a great experience for a number of reasons. I was able to show with my friend and fellow South Dakota artist Tom Thorson. Our show is running concurrently with the Wayne Thiebaud show at the museum. The Thiebaud exhibit is on one side and the work of Harvey Dunn is on the other side. Thiebaud and Dunn have been two of my biggest influences.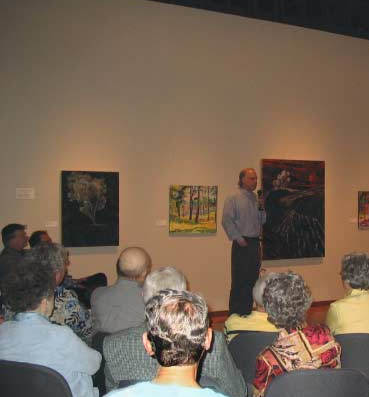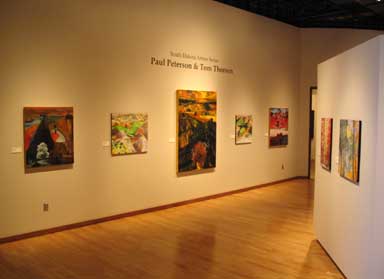 links Paul at Spirit Mound Julie Moore Peterson pspeters@hotmail.com
Paul on the Saatchi site